By 1:AM
Posted: September 7, 2009
Katch One from Hawai'i will be gracing the walls of 1:AM gallery this Friday for the first time.  As one of the judges for Estria's Invitational Graffiti Battle Hawai'i, he came out strong and illustrated his take on "Ode to the Spraycan".  His pieces are sick… here's a peek.
To see Katch's pieces, visit 1:AM gallery on Friday, September 11th, from 7-10pm for
"Don't Sweat the Technique: Ode to the Spraycan" opening reception.
Katch One from Hawai'i
Posted on: http://estria.blogspot.com
Katch One has been exploding on the national art scene these past two years. He has had several gallery shows from New York to Hawai'i. This is a reclusive, prolific artist who has been putting up production after production for 25 years, and always represents for Hawai'i. Katch has the old school mentality of burning every time he paints, and that productions burn pieces. I am proud to say I know this true king and have nothing but respect for him.
Katch was a judge in Hawaii's battle a few months back. On October 10, he will be in the battle to vie for the crown. You can see his work in our EIGB-MTN art show at 1:AM SF Gallery. Opening reception is Friday, 9/11. Show runs until October 9.
Support his tres cool skateboard company, Natural Koncept. naturalkoncept.com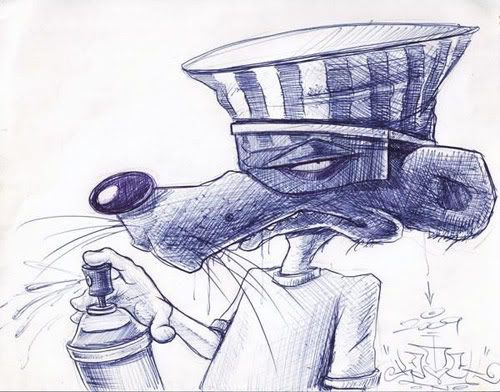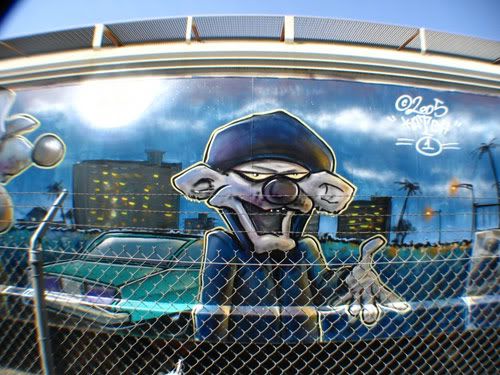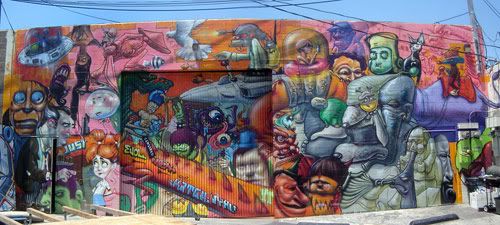 Here is a recent article on Katch in the Honolulu Weekly.
Katch's favorite new piece: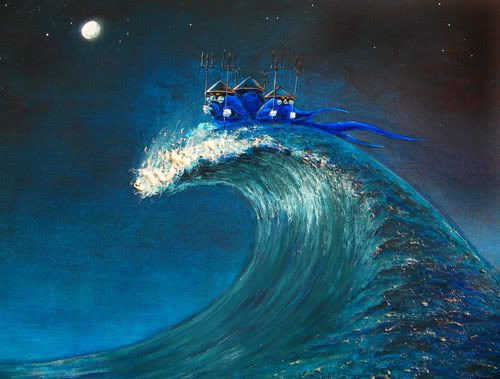 Katch asked me to post this interview unedited. Enjoy!
WHAT ARE SOME OF YOUR EARLY MEMORIES OF HAWAII? WHAT'S YOUR BACKGROUND?
Hawaii Kai Basketball League and flag football. Fun Factory. Sandy's. Bellows. Makapu'u, Breakin' Hawaii, MIA-FBI, Pipeline Bowls. Wallos. Job Corps. No hoo hoo, call Magoo's. Castle Park. Going to other high school dances to "battle" at breakdancing. Skez 520 vs Frank Fasi. Niu Valley Skate Jam.
I remember going to the crackseed store in Kaimuki everyday after school, because you'd have to transfer buses right there. I'd buy a pack of Bubble Yum, eat all five pieces, and see how big of a bubble I could blow on the bus on the way home… I used to get bubble gum stuck to my hair all the time.
We used to catch the bus all over town with "skatebags". (They wouldn't let you on the bus with a skateboard, but if you had it in a laundry bag, it was ok…???) It made no sense.
Catching the bus to Ala Moana for writer meetings, or just to meet friends from other parts of the island…. I just remember the bus was the slowest system on the planet. If you missed your bus, sometimes you would wait an hour.
I remember riding my bike all over, and going fishing with my neighbor. Night fishing was the funnest… eels, crabs, and mempachi(spelling?).
HOW OFTEN DO YOU COME BACK TO VISIT?
I come back as often as possible. If I get to go back once every other year, I'm lucky.
YOU EVER SEEN YOUR OLD PIECES AROUND THE ISLAND AND THINK TO YOURSELF DAYUM I DID THAT A HELLUVA LONG TIME AGO AND ITS STILL THERE TODAY?
I haven't actually seen them, but sometimes I see flix of some pieces, and I'm dumbfounded that they are still there. If I'm not mistaken, the city went and painted all the graffiti in a ditch that I used to paint, but they left all of my stuff. It's a little dissed, but running for over ten years… Yeah, it does make me say, "Dayum"… It's a feeling like after you ate a good meal…it's an honor.
WHAT ARE SOME OF YOUR FAVORITE PLACES TO SKATE, EAT OR JUST KICK IT IN THE 808?
When I go home, I'll make sure I get a good plate lunch(Side Street, HK's), maybe go to Longs and browse the Hawaii snack isle. I'll go to some of my friend's houses, and eventually end up in some ditch skating or painting. Or I'll take a hike, hang out at the beach, or drive around the island, and stop by the cliffs near Sandy's,or beach by Makapu'u… somewhere where I can kick it by myself. I like to immerse myself in things that are "Hawaii". It reminds me of my youth.
As far as skating, I've always loved Wallos and don't understand why more locals don't skate there more often. I guess the skate game is different now. Maybe it's that stupid little dog that barks the entire time your there. I guess no one wants to play in a rough ditch with cracks and rocks.
I like to hit up the skatepark in the morning when no one is there. I don't like to skate when there are a lot of people around because I skate like a wet noodle. It's my physical "release", however, and I love skating and being around it. I expect my board to be with me for the rest of my life.
WHAT DISNEY AND WARNER BROTHERS CHARACTERS WERE YOUR FAVORITES?
I wasn't into the most popular ones, like Mickey and Pluto, because they were too "soft". I usually liked the bad guys, like the snake and the wolf soldiers from Robin Hood, or the evil witches. Actually, I guess I liked Donald Duck, too, but I'd always make him angry in a hoodie.
HAVE YOU EVER GOT BUSTED OR ARRESTED FOR TAGGING AS A YOUTH? WHAT HAPPENED?
I got kicked out of school, and was arrested for shop lifting… twice. I was an idiot. I was lost. I didn't have drive or direction. No one was there to really point me in the right way.
GRAF ARTISTS HAVE A CERTAIN ATTITUDE WITH WHAT THEY DO. CAN YOU EXPLAIN THAT A LITTLE? (my bad, if this question don't make sense lol)
It takes a few loose screws to be a graffiti artist. Troubled pasts and anti social personalities are a common trait in graffiti circles. Graffiti is a drug. Adrenalin abusers and fame junkies abound in the ranks of writers. We don't care what you think, we care what we think. (my bad if this answer doesn't make sense…lol)
HOW HAS THE ART STYLES OF KIDS CHANGED AND IMPROVED TODAY?
Everything changes and progresses over time. Somewhere, someone is taking graffiti to the next level. Graffiti seems to be having the same problems as skating and hip hop. Everyone is going for the icing on the cake 'cause that's what looks pretty. They miss true content. Skaters are trying to fakie 360 flip before they know how to roll faster than a jog. Hip hop artists have access to amazing beat machines and sound samples that makes everything sound great, but they talk about their cars, bitches, and grills, that most of them don't have or struggle to keep anyway. Graffiti artists are currently trying to make everything look 3D and real, but the actual letter form and characters don't have that "life"… the "flav". It's like a lot of them are missing basic foundtion.
WHAT ARE SOME UNWRITTEN RULES THAT EXIST WITHIN THE GRAFFITI COMMUNITY AS FAR AS METHOD, RESPECT OF OTHERS WORK ETC.?
Throw ups are allowed over tags. Pieces are allowed over throw ups. Productions are allowed over pieces. Basically, if you can improve the wall, or do something better, your allowed to go over someone. But that is so subjective that it causes beef time and time again. Egos in the graff game are extraordinary. People can't handle getting "gone over". Their piece is their name, so it becomes a representation of themselves.
STREET ART MAY NEVER DIE BECAUSE THE YOUTH WILL ALWAYS HAVE PEOPLE SUCH AS YOURSELF TO LOOK UP TO, HOW DO YOU TRY TO TEACH AND INSPIRE?
I can only lead through example. Hippocrates are transparent.
HAVE YOU EVER HAD AN ART PIECE YOU LOVED SO MUCH THAT IT WAS HARD FOR YOU TO SELL (OR REFUSE TO SELL?
I get personally attached to all my canvases. I hate selling those things. I never get to keep the best art because that's the stuff that sells.
IF YOU HAD TO EXPLAIN THE GOOD THINGS ABOUT GRAFFITI TO SOMEONE AGAINST IT HOW WOULD YOU BREAK IT DOWN?
It's one of the last urban adventures that frees the spirit… until you get busted. Graffiti is a beast that self exploded from the art world, much like rock and roll. Hated and unaccepted at first, it has slowly become a part of our society and in the art world. It's amazing how many graff writers are doing shows, how good the new generation of writers are. It's drifting more towards art and skill. You definitely need to have artistic talent to become a graffiti artist now.
HOW HAS THE ART OF GRAFFITI GOTTEN WORSE? HOW HAS IT MAINTAINED ITS STATUS THROUGHOUT THE YEARS?
All the English words have been taken, so now everyone's name is mad gibberish. It's confusing who the f*** is who, and how you pronounce what people write. There seems to be more idiots and less respect in the game, but that is natural as it grows. Graffiti is a huge cycle. Kids tag, come up, and slowly faze of the streets. They get more into piecing and murals. Then they usually float towards doing canvases. New kids come up and begin the cycle again. As writers mature, a lot of them leave tagging and bombing behind. You really see it in L.A. Every year there are new bombers, as the ones you used to see often fade away. One thing for certain is that graffiti is a permanent fixture in our society, and it is imminently a part of art history.
Seems like a lot more traditional artists are trying to use graffiti style. They disguise themselves as "street artists" so that they can use the style and the rebellious spirit, and in turn, if they are not labeled as "graffiti artists", then they do not have to deal with it's negative connotations and views. People are trying to separate themselves from being labeled as a graffiti artist, but they use graffiti style and techniques.
HOW DID THE "CONCEPT" OF NATURAL KONCEPTS COME ABOUT?
I used to paint my brother's friend's surfboards, because he hated his sponsor's logo, and wanted it covered. After a while, we figured we should put the art on something. Eventually, we floated towards skating because that's my environment.
WHAT WAS YOUR MAIN GOAL WITH THE BOOK AND HOW WERE YOU ABLE TO KEEP ARCHIVES OF ALL THE PICTURES ETC?
The main goal was just to get the art out there. Graffiti is so temporary, documentation just comes with the territory. Getting flix is half the riddle. If a freight isn't sittin' up right, I won't even bother. Wondering where it went and if anyone has seen or taken pictures of it is torture.
DETAILS OF YOUR BOOK AND HOW THE "CONCEPT" FOR THE BOOK CAME ABOUT?
Childhood drawings. 80's blackbook art from the Frank Fasi era. Crazy pen drawings that would take me weeks, drawing for hours everyday when I used to live in Nevada and I didn't talk to anyone, wholecar freight trains, acrylic canvases, over 50 skateboards designs, wheels, t-shirts, sketches… there's a lot of stuff in there… I should have took out some of it out.
YOU ARE A PRIME EXAMPLE OF HOW SOMEONE DOING "HIP HOP" W/HAWAII ROOTS CAN MAKE YOUR DREAM A REALITY AND TAKE IT AS FAR AS HUMANILY POSSIBLE, HOW DO YOU TAKE THAT ROLE MODEL ROLE AND SHARE YOUR STORY AND MESSAGE WITH THE YOUTH?
It's hard for me to accept being a "role model", as I am still trying to "make it" myself. I guess whatever you do, whether it be skating, art, surfing, breaking…. time and practice are the keys. The more time and practice I sink into whatever I do, the greater the outcome…
Worrying about other people and what they think will usually set you back. Use the negativity and hatred as fire. Burn the gas that they feed you to make you hungry. Negative criticism is difficult to handle at first, but usually feeds the fire and improves areas of weakness. Negative comments are just hints on how to improve yourself.
WHAT HAWAII ARTISTS DO YOU DIG AND WHY?
I've been gone so long and hiding in skateboard world, I have no idea what's even out there…
HAWAII SHOUTOUTS?
Too many… family, friends… g money and fam, philly, mom, Mrs.G, ncp, kk, nishikawa's… skaters on and off the team, writers, b-boys, … anyone who has supported or hated on me over the years…
For copies of the book in Hawaii, please visit www.iamhawaii.com/store/katch1. If people you want to avoid shipping costs, they can drop by our printer's shop, "Obun", on Monday through Friday @ 1052 Waimanu St. Ask for Kory or the Katch 1 book.